Monday January 1, 2018
The 2018 Executive & Board Remuneration Report

Covering a 5-year period from FY13 to FY18, IMA India's 2018 Executive and Board Remuneration Report presents a summary and analysis of compensation trends in 248 publicly-listed companies in India. It draws representation from both private sector and PSU firms, across the BSE 100, Mid-cap and Small-cap segments. The report provides detailed pay data for Executive and Non-Executive Chairmen, CEOs/MDs, CFOs, Whole-time Directors, Company Secretaries and Non-Executive Directors (NEDs). Data cuts are offered for each type of executive/NED, by sector, ownership (foreign versus Indian), revenue, net profit, and market capitalisation. Also presented is data on gender gaps in representation and pay, and governance metrics, including Board size and composition, number of NEDs and number of Board meetings held each year.
Price (Early Bird) : INR: 40,000 Price (For Members) : INR: 60,000 Price (For Non-Members) : INR: 1,20,000
(Before Jan18, 2019) (After Jan18, 2019)
---
The India Employment Report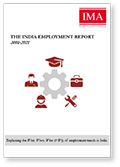 IMA's India Employment Report analyses national and state-level trends in talent pool and employment patterns by industry sectors, gender and location (rural vis-à-vis urban areas). The report is based on a minute analysis of four of the largest databases in the country - Employment and Unemployment Surveys conducted by the National Sample Survey Organisation for the years 2004-05 and 2011-12, Employment-Unemployment Surveys conducted by the Labour Bureau in 2015-16, Census of India for 2001 and 2011, Economic Census of India, 2013-14. The report also estimates employment demand for 2021.
Price (For Members) : INR: 30,000 Price (For Non-Members) : INR: 50,000
---
Diversity Underlying Unity: IMA India's Study on India's States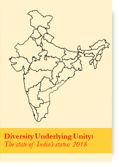 India's overall growth on economic parameters and progress in social parameters are the combined effect of the divergent performances of its states. Based on exhaustive research, interviews with state administrations and our own members with deep investments across the country, the report dissects the comparative performance of the states on parameters such as macroeconomic performance, economic and social infrastructure readiness, education, employment and consumption scenarios, industrial investments, political stability and governance and reforms performance. It identifies the advanced and laggard states of each parameter as well as those which are ready to break into a higher growth trajectory. Apart from theme-based comparison, the report includes a data-based annexure that encapsulates the current status of progress of each state.
Price (For Members) : INR: 1,30,000 Price (For Non-Members) : INR: 2,00,000
---

The India Consumption Report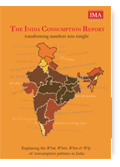 Consumption expenditure has followed varying growth trajectories across states as growth drivers have evolved differently in different regions. The India Consumption Report provides strategic insights as well as detailed consumpton mapping at the country and state levels - segregated by urban and rural areas - as well for the top 100 districts in each product category.Based on analysis of unit level consumption expenditure data from surveys conducted by National Sample Survey Organisation (for the years 2004-05 and 2011-12) and various rounds of Census data, the report helps in tracking the changing consumption patterns, understanding drivers that impact consumer choice, identifying markets with the biggest potential and in spotting the geographies where the next big opportunities might emerge.
Price (For Members) : INR: 1,00,000 Price (For Non-Members) : INR: 1,50,000
---